Eternal Waltz
award-winning epic short romance film

Eternal Waltz is an epic short romance about soul recognition and a love that spans lifetimes.

A German aerospace engineer-turned-actor (Thorsten Becker) and American actress (Cindy Marinangel) wanted to make a romantic short movie.  All they knew at first was that they wanted it to include the tarot, a waltz to the Blue Danube, and lovers meeting in more than one time/space.

They asked Laurie Lamson to help them develop the story, write the script, and eventually to direct the film.
In 1887, when a philandering husband ends the secret romance between his wife and their handsome butler, a tarot card reader uses Strauss' Blue Danube waltz to help them find each other again in the post-apocalyptic future.
When it came time to produce the film, they started a company (Angel Baker Productions) and successfully raised a good-sized budget with an Indiegogo campaign.  They enlisted Cindy's friend Raffaele Marraffa as a producer, with Laurie Lamson to help out with pre-production tasks as a co-producer.
JaZzyMaE Media donated a lighting package won from Greenstem Enterprises. This also became an opportunity to collaborate once again with talented DP Pedja Radenkovic
.
We are grateful to the Johann Strauss Society of Germany for supporting the production.
After a successful shoot and long post-production process in which Laurie also edited the film, Eternal Waltz is completed.  One of the best things about the film is the beautiful original score by Hillary Thomas.  See full cast and crew on IMDB.
"Collaborating with Laurie on our epic short Eternal Waltz was like going to film school." – Cindy Marinangel, Co-Producer, Co-Writer, Lead Actress, Eternal Waltz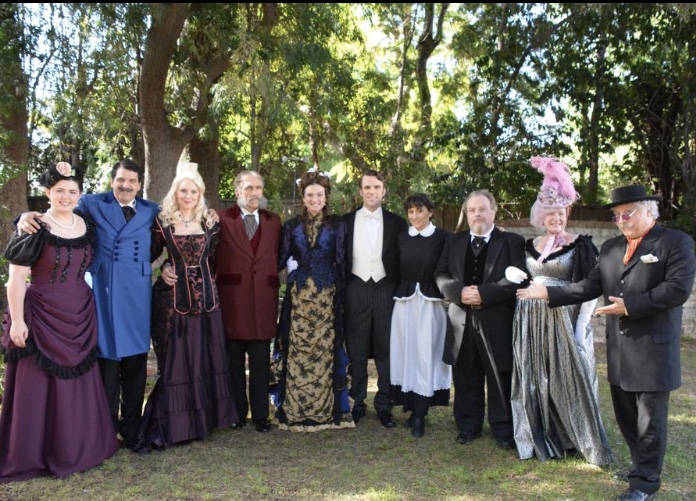 Eternal Waltz Accolades To Date

WINNER:
Best Director – Amsterdam/Around Intl. Film Festival (Nov 2017 / monthly)
Best Acting Ensemble – Culver City Film Festival, 2017
Best Drama Diamond Award – The European Independent Film Award 2017
Best Independent Short Film – Festigious Film Festival (Nov 2017/ monthly)
Best Sci-Fi

 – 

Festigious Film Festival (Nov 2017/monthly)
Best Short Film Gold Award – Hollywood Film Competition (Dec 2017 / monthly)
Best Foreign Short – Hollywood Intl. Moving Pictures Film Festival  (Nov 2017/ monthly)
Best Independent Short Film – L.A. Film Awards (Nov 2017/ monthly)
Best Short Film Platinum Award – NYC Indie Film Awards (Dec 2017 / monthly)
Best Independent Short Film – Top Shorts (Nov 2017/ monthly)

FINALIST:
Top Shorts (annual)
Best Short Director – Amsterdam/Around Intl. Annual Film Festival, 2018
NOMINEE:
North American Film Awards
OFFICIAL SELECTION:
Action on Film Festival
Feel The Reel International Film Festival
Top Shorts 2018
Women's Only Entertainment Film Festival