Audio Renaissance with Vocal Resonance
by Laurie Lamson and Amrish Shah
(originally published on LinkedIn)
"Who knows what evil lurks in the hearts of men? The Shadow knows…"
Before television rose to prominence, radio featured news, sports, and music as it does today. It also provided some pretty compelling entertainment that ran the gamut from detective stories and science fiction to comedy and drama. As television gained in popularity, these scripted programs pretty much fell by the wayside.
Audio Renaissance: Everything Old is New Again
Despite the sheer quantity and easy availability of movies, TV shows and documentaries at an all-time high, the audio experience is having an incredible revival.
This medium allows us to get information and be entertained while we continue with our daily lives, whether that's commuting to work, taking a walk, or cooking dinner.
In case you haven't been "listening," what once fell under the banner of "radio drama" has been reborn as the fiction podcast.
As with film and TV, the methods of distribution and accessing content have evolved and expanded quite a lot. But unlike the jaw-dropping technical advances in creating visual entertainment, the means for creating audio haven't changed all that much over the last 100 years since the first radio drama was recorded.
What this means for creators, is they have the ability to produce original audio experiences at a tiny fraction of the cost it would take to visually accomplish comparable storytelling. As fiction podcast writer/producer Patrick Hyde points out, "The difference in the cost of production between an indie drama and a science-fiction movie is tens of millions of dollars. With audio production, any genre can cost pretty much the same.
Rachel Brosnahan of Mrs. Maisel fame listed the advantages of audio storytelling on a Variety hosted online event: "…faster turnaround than movies, more cost-effective, limitless creativity…"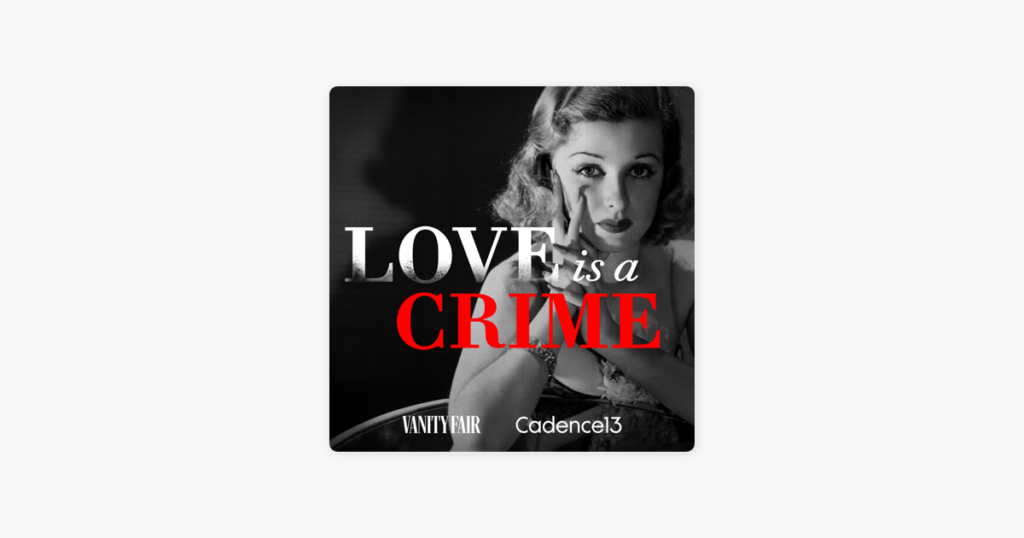 It also means they can more easily express diverse points of view, as in Vanessa Hope and Karina Longworth's Love Is a Crime, a documentary series that incorporates actor recreations like TV doc series sometimes do (although this show features stars like Jon Hamm and Zooey Deschanel.) Love is a Crime is about the actress Joan Bennett, but Hope and Longworth present her story in the context of a broader, modern perspective on the systemic misogyny of old Hollywood and society at large.
Are You Listening?
Listening to music has always provided a wide range of experiences, including a sort of escape and relief from the stresses of life. In a world of increasing visual bombardment and excessive screen time, the audio-only experience has become almost like a sanctuary and often a more connected experience for many of us – whether it be a fiction podcast, talk show, audio book, or alternative to social media (Clubhouse.)
The visual can distract us from our own internal experience, and visual overload can make visualizing for yourself near impossible.
Audio has respect for your imagination.
Like reading a book vs. watching a movie, podcasts and audio books give you the opportunity to visualize characters, speakers, and unfolding stories for yourself. And we can get this in a more immediate and user-friendly, less time-consuming way than reading, which is why it's perhaps better-suited for today's fast-paced lifestyles.
Vocal Resonance
A big part of communication is visual and nonverbal – facial expressions and gestures. A big part of communication is also aural – what we hear. (Emojis had to be invented to help clarify our intent because lacking both visual and audio expression, written communication is all too easy to misinterpret.)
The eyes are the windows to the soul; so is the voice.
Voice alone can be very compelling in conveying both meaning and emotion. In podcasts, with the visual stripped away, it's all down to the voice which provides a more primitive and visceral experience than our visual sense. There's an intimacy with voice alone that can be highly emotional, and the listener can easily feel like the speaker or actor is speaking directly to them.
Podcasts not only democratize creation and distribution for scripted projects, it's a non-judgmental space for actors to play in. In a world where people are judged based on their age, appearance, ethnicity, and gender or gender preference, a world in which actors are too-often typecast based on how they look, the world of audio strips away a layer of prejudice and limitation.
Again, seeing can get in the way of our connecting with a story and an actor. Audio-only entertainment broadens the range of potential roles for an actor. Someone who feels a little shy or awkward in person, or less than confident in their appearance, has the power, through their voice alone, to convey authority, menace, confident sex appeal, or whatever is called for in a given role.
Podcasting is Hot and Getting Hotter
The audience has been growing steadily for both fiction and nonfiction podcasts for the last 10+ years, and producers have taken notice. They're experimenting with different approaches, such as the "feature film podcast" Ghostwriter (also from Cadence13 and starring Kate Mara and Adam Scott.)
Famous actors like those already mentioned are not only appearing in a wide variety of podcasts, they're producing and directing them. Jesse Eisenberg created and stars in When You Finish Saving the World. Rachel Brosnahan is executive producing and starring in two podcast thrillers: Listening In for audio content studio QCode and The Miranda Obsession for Audible. In addition to starring in the podcast series Cinnamon Bear and Solar, Alan Cumming has his own nonfiction series, Alan Cumming's Shelves. He also directed, produced and appears in the LGBQT action comedy podcast series, Hot White Heist.
As Patrick Hyde says, "If I was a big actor who hadn't been in a fiction podcast yet, I'd be asking my agent, 'Why haven't you brought me any scripted audio projects?'"
Interestingly enough, unlike with film and TV, audio podcast listeners apparently care less about the fame of hosts and cast members than they do about the content. Good news for indie producers on a budget, no?
Statistics
monthly podcast listening grew from 30M in 2011 to 116M in 2021
the number of podcast listeners has doubled over the last 10 years and is set to almost double again just this year
almost 60% of all U.S. consumers over the age of 12 listen to podcasts
it is anticipated that by the end of 2025, there will be over 144 million monthly podcasts listeners in the U.S. alone
the number of listeners globally is forecast to increase from 800 million in 2021 to 1.6 billion in 2024, and commercial revenues are expected to double within the next 3-4 years
(Sources: Edison Research, who publishes The Infinite Dial, the longest running survey of digital media consumer behavior in America, Statistica, Interactive Advertising Bureau and PwC.)
Laurie Lamson is a writer and content producer who is adapting her award-winning screenplay, an "uplifting" comedy/drama about the invention of the brassiere, as a podcast series. Through her company JaZzyMaE Media, she's  releasing Anti-Heroine, an eclectic audio anthology of short scripted comedy, drama and horror, featuring female characters on the road less traveled.
Amrish Shah is a film producer, creative strategist, voice actor and founder of London based creative consultancy Red Kimono Media. He is currently developing a slate of HETV series across thriller/crime drama, dark comedy and dramedy genres. Amrish is highly interested in the evolution of the rising demand of podcast/audio storytelling, sound healing, and the impact of voice/audio in how we create and consume media.