Anti-Heroine Ep. 2: Muriel
A late middle-aged bartender dreams of becoming an auto mechanic, while a poetic barfly secretly dreams of her.
Written, Directed & Edited by LAURIE LAMSON
Casting by STEPHEN SNYDER, PITBULL CASTING
Cast
Muriel   BABE MCGUIRE
Steve   JOHN FANTASIA (also in Ep 5: Winter Fall)
Jackie   BRITTNEY O'ROURKE
Donna   ANGELLA TURNAGE
Auto Mechanic Instructor  NICK WILLIAMS
Mike, Autobody Shop Owner  MARSHALL THOMAS
Bar Patrons   NICK WILLIAMS, MARSHALL THOMAS
Special Thanks to John Fantasia for providing most of the sound effects and Vicki Liston for providing royalty-free music beds.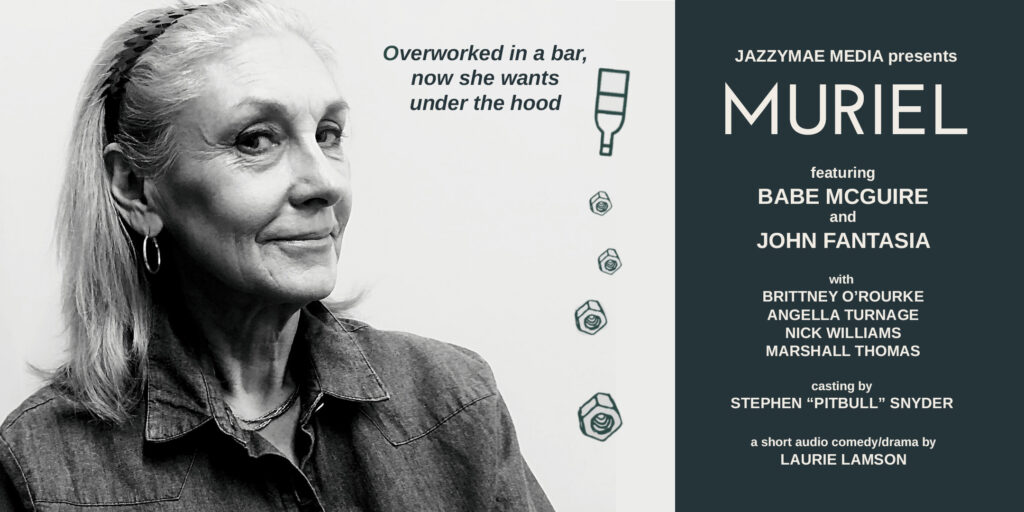 To support this podcast series: Visit our Patreon page.
Return to Anti-Heroine series homepage.
#antiheroineseries #scripted #podcast #Muriel #jazzymaemedia #middleage #mechanic #barfly