Eternal Waltz
trailer for metaphysical short romance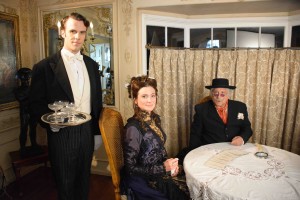 A German actor (Thorsten Becker) and American actress (Cindy Marinangel) wanted to make a romantic short movie.  All they knew at first was that they wanted it to include the tarot, a waltz to the Blue Danube, and lovers meeting in more than one time/space.
They asked Laurie Lamson to help them develop the story, write the script, and eventually to direct the film.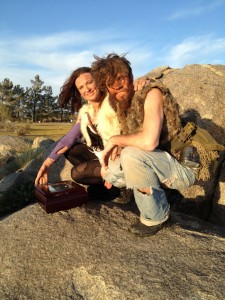 When it came time to produce the film, they started a company (Angel Baker Productions) and successfully raised a good-sized budget with an Indiegogo campaign.  They enlisted Cindy's friend Raffaele Marraffa as a producer, with Laurie Lamson/JaZzyMaE Media to help out with pre-production tasks as a co-producer.  Laurie also donated a lighting package she had won from Greenstem Enterprises.This also became an opportunity to collaborate once again with talented DP Pedja Radenkovic.
The result is Eternal Waltz: a metaphysical short romance about soul recognition and destined love from 1887 to the post apocalyptic future.
In 1887, when class systems prevented freedom in choosing one's true love, the attraction between a servant and a rich man's wife's ends in tragedy. But a mysterious tarot card reader (Smokey Miles) and the Blue Danube waltz played on a magic music box help the destined lovers Gilda (Cindy Marinangel) and James (Thorsten Becker) in their timeless romance.
After a successful shoot and long post-production process, Eternal Waltz is almost completed.  See full cast and crew on IMDB.