Guitar Man
feature screenplay - book and life dramatic adaptation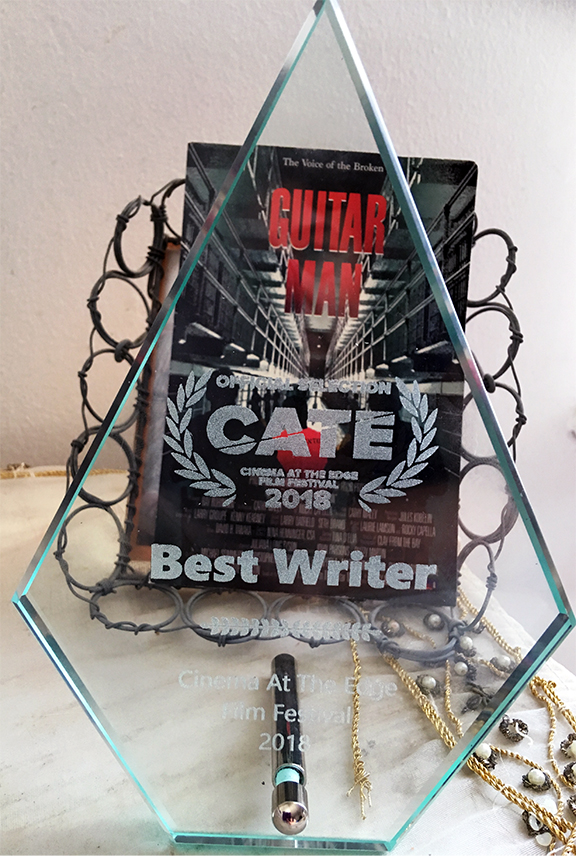 GUITAR MAN won the Audience Award for "Best Drama" at its debut screenings in San Francisco Indie Fest, "Best Drama" at IFS Film Festival, "First Place" at San Francisco Black Film Festival, plus nine additional festival awards, including "Best Writer" at Cinema At The Edge and "Best Original Screenplay" at Golden State Film Festival.
By trying to save at least one troubled youth from ending up in prison, even at the risk of his own family, a 'failed' musician discovers the true gift of his music… and the deeper meaning of freedom.
I was challenged and thrilled by this screenwriting assignment: to adapt the nonfiction book Don't Shoot, I'm The Guitar Man by musician and youth advocate Buzzy Martin. The book details Buzzy's experience teaching music to prisoners in San Quentin. The screenplay is an adaptation of Buzzy's book and life.

"As the author of the book Don't Shoot! I'm the Guitar Man I'm humbled and moved to happy tears to read the riveting screenplay by Laurie Lamson that will bring the words from my book to life. Her incredible detailed writing brought each page to a raw emotional climax…"
– Buzzy Martin, author, musician and child advocate
I was honored to work on such a meaningful project and collaborate again with Producer Ray Robinson of Prodigy Entertainment. (Previously worked with Ray to revise Prodigy's screenplay: SLEEPING WITH THE LION.)
Buzzy's book was published by Penguin in September 2010 and the first printing sold out in 5 days. His interview on the Bob Edwards Show (Sirius) was featured on NPR as one of the top 4 shows of the year: listen to interview.
This article offers a wonderful description of Buzzy's impact on youth:  Guitar Man Stops By Juvie.